In 2014, there were some major celebrity breakups.  From Nick Cannon and Maria Carey, to Bruce and Kris Jenner.
We're always hopeful that our favorite couples will last forever, but in Hollywood that is just a dream, usually.
Here are LifeDaily's 21 Celeb Breakups From 2014 We Are Still Not Over:
21. Britney Spears and David Lucado
Britney Spears and her boyfriend of over a year, David Lucado call it quits. Spears took to Twitter herself sharing the news with the world, tweeting: "Ahhh the single life!"
20. Prince Harry and Cressida Bonas
Prince Harry and Cressida Bonas ended their 2-year relationship after she struggled to deal with the attention of being the girlfriend of the Prince. Cressida found it hard being in a relationship under the full glare of the media.
19. Ashley Olsen and David Shulte
Olsen began dating the CEO of luxury eyewear brand Oliver Peoples in September 2013. "He was a great guy and cute, but it didn't work out," an insider of Schulte's revealed. Their relationship was short, but looked promising.
18. Adriana Lima and Marko Jaric
Victoria's Secret model Adriana Lima announced her split with former NBA player Marko Jaric. After 5 years of marriage, and two incredible young daughters, the couple wishes for privacy as they begin this delicate next chapter.
17. Lana Del Rey and Barrie-James O'Neill
The "Young and Beautiful" singer said her goodbyes to her fiance O'Neill. Del Rey recently said in an interview: "We are currently not together. He is a wonderful person. But there are some things he has to deal with." Well this is sad.
16. Kris and Bruce Jenner
The "Keeping Up With the Kardashian" star parents have decided to divorce after 22 years of marriage. We can't say if the show had anything to do with it, but since the divorce Bruce has been cited painting his nails hot pink, and looking like more like a woman than a man.
15. Zac Efron and Michelle Rodriguez
While they had a whirlwind summer romance, sources claim Zac might be more into Michelle than she's into him. They have a 9 year age difference, so many that had something to do with it.
14. Rita Ora and Calvin Harris
They began dating in 2013, but Rita has now said that "It was the right guy at the wrong time. I was about to start a tour, and he was also all over the place." Makes sense to us.
13. Amber Rose and Wiz Khalifa
Kanye West's ex Amber Rose, met Wiz Khalifa and then shared a one year marriage with him. The two have a son Sebastian, whom Amber is hoping for full custody of, although Khalifa will have visitation rights.
12. Jordan Sparks and Jason Derulo
This musical couple ended their 3 year relationship in September. Derulo stated on a talk show: "Everything is cool man," but he'd "rather not" talk about the split.
11. Naya Rivera and Big Sean
After getting engaged in October 2013, the wedding is off. It is rumored that Naya cheated during their courtship, and since then Big Sean has been publicly seen with Ariana Grande.
10. Khloe Kardashian and French Montana
Khloe and French broke up twice in 2014, first in September, and for a second time in December. The reality star found her first serious relationship after her separation from husband Lamar Odom in the rapper, but turns out Khloe just wasn't ready.
9. Freida Pinto and Dev Patel
This might be the most adorable couple on our list. Freida and Dev met in 2008 while filming "Slumdog Millionaire." After dating for 6 years, they never made it to the altar, but we hope they will reconcile in the future.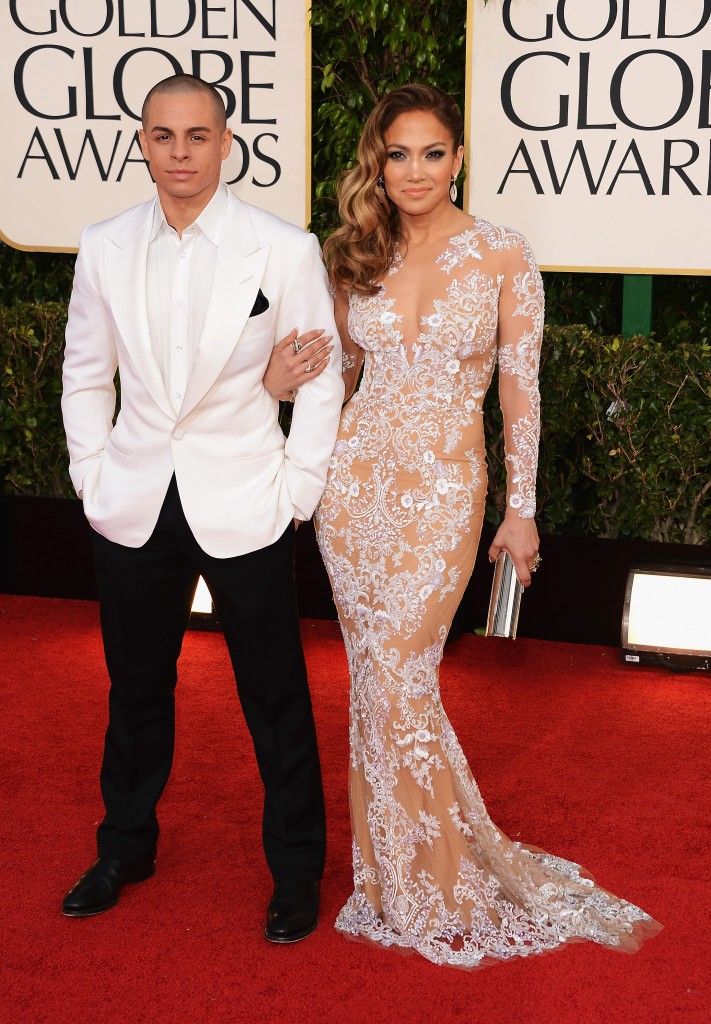 8. Jennifer Lopez and Casper Smart
After splitting with Marc Anthony, J. Lo spent several years dating former back up dancer Casper Smart. She has finally hit the nail on the head in saying: "I'm just being on my own. I feel like I need that right now. I've been in relationships kind of back-to-back my whole life, and I just needed time." Good call Jennifer.
7. Jennifer Lawrence and Nicholas Hoult
This pair first met on the set of 2011's X-Men: First Class. They dated, then split, and reunited after making 2014's X-Men: Days of Future Past, but recently they just haven't been together a lot. As great as it was seeing these two on the big screen together, we may have to get over it, or at least until the next X-Men. Jennifer has rebounded with Gwyneth Paltrow's ex Chris Martin, but has split from him as well.
6. Katy Perry and John Mayer
John and Katy have been on again off again since 2012. Despite being recently spotted together again, they have publicly decided to split. John has previously dedicated songs to Katy, calling her "my face to call home," and Katy stated post breakup: "I have a lot of respect for John still, and I know it goes both ways. There's no bad blood, but I'm sure there will be inspired songs." This one seems like it will be to be continued..
5. Kate Hudson and Matthew Bellamy
This couple has called it quits after their 3 year engagement. Having dated for 4 years, Hudson's rep claims: "Kate and Matt have been separated for some time now. Despite this, they remain very close friends and committed co-parents." They have a 3-year old son named Bingham Hawn Bellamy.
4. Melanie Griffith and Antonio Banderas
After a whopping 18 years of being married, Griffith and Banderas have consensually decided to divorce. Both said: "We have thoughtfully and consensually decided to finalize our almost twenty years marriage in a loving and friendly manner honoring and respecting each other, our family and friends and the beautiful time we have spent together." Griffith is currently seeking custody of their 17- year old daughter Stella.
3. Gwyneth Paltrow and Chris Martin
After 11 years together of marriage, this Oscar-winning actress, and Coldplay lead singer have consciously decided to "uncouple," as Paltrow phrased. She says: "We have been working hard for well over a year, some of it together, some of it separated, to see what might have been possible between us, and we have come to the conclusion that while we love each other very much we will remain separate." The couple has two children- Apple and Moses.
2. Robin Thicke and Paula Patton
These high school sweethearts met in 1993 at high school when Thicke was only 14 years old, and the couple has stayed together ever since. After 8 years of marriage, they have mutually decided to separate, saying: "We will always love each other and be best friends." They have a 5-year old son named Julian.
1. Nick Cannon and Mariah Carey
This might be the saddest of them all.. The couple first met when they were presenting at the Teen Choice Awards. They started dating in secret, claiming that they "just clicked." Nick popped the question shortly thereafter, after only 2 months of dating. They announced their split after a six year marriage, and after having two 3-year old twins- Monroe and Moroccan. Mariah is reportedly suffering from insomnia, and can't sleep because "she's a mess," devastated over losing the happy family she has always wanted.
Out of LifeDaily's 21 Celebrity Breakups from 2014 We Are Still Not Over, which one still has you sobbing? Let us know in the comments below.
[Featured Image Credit: Kevin Winter/Getty]