Serving your country is one of the most selfless things a person can do in their lifetime, especially when they have to leave more at home than many others.
As you can see in this touching tribute to our heroes, the holiday season can be pretty tough for military families who have a loved one away on deployment. We here at LifeDaily love to honor and remember these amazing men and women by sharing uplifting stories like the one below, to help remind others to be thankful and give back.
In the following video, we see a little boy named Trevor being called up to the stage during a school assembly. Jacksonwald Elementary School apparently has a Thanksgiving giveaway celebration every year, so 6-year-old Trevor believed he was receiving a surprise for the holiday.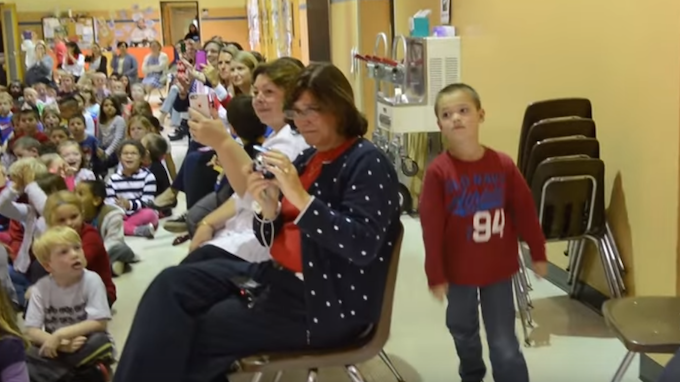 [Source: YouTube]
However, as the first grader hit the stage and was handed over a giant turkey to bring home to his family, we realize that the surprise was a much bigger one than he first thought.
That's when Air Force Master Sgt. Heather Michaud, a 15-year military veteran and single mother, sneaks out behind her little boy from backstage to give him the surprise of a lifetime.

[Source: YouTube]
Michaud had been on deployment for more than a year in South Korea before she returned home to spend the holiday season with her son, who had been living with his grandfather.
The Airman told Reading Eagle her son is excited to have her home again. "I don't think it matters where we're going. He just says, 'I want to live with you again.' He'll go anywhere."
[Source: YouTube]
Here's to hoping Trevor and Master Sgt. Michaud, and all of our brave military men and women and their families, have a happy and healthy holiday season!
Please click below to SHARE this awesome story on Facebook and spread the joy to your friends!

[Featured Image: YouTube]