Brain Teasers, Movies, And Television. What More Could A Person Ask For? These Crossword Puzzle Clues Celebrate The Best In All Three. Which Shows And Flicks Do You Remember?
Crossword puzzle clues can make or break the quality of this classic form of brain teaser. They also make great snapshots of pop culture's days-gone-by. We've scoured the web looking for actual examples from past and present, and along the way, found some worthwhile stuff that you may just want to boot up on your TV tonight. See if you can guess before looking at the answers. (Highlight the white space after each field marked "Answer" for the correct response. Hat tip to CrosswordGiant.com for the original publication info.)
1. Radio Station On TV
A few more hints: This classic sitcom featured a gruesome turkey drop, a hapless boss and his domineering mother, and a team of the craziest deejays and staff to ever grace the small screen. If you know the call letters, then you know the show.
Answer: WKRP
Source: New York Times, July 14, 2013
2. Nick And –'s Infinite Playlist
A few more hints: Nick and his movie companion are looking for their favorite band's secret show. They're also after Fill-In-The-Blank's drunken best friend. Last but not least, the crossword answer is played by a certain lead actress from the show Two Broke Girls.
Answer: NORAH
Source: Premier Sunday – King Feature Syndicate Crossword Solutions, July 14, 2013
3. Young Man Of Steel
A few more hints: This TV series preceded Lois and Clark: The New Adventures Of Superman and Smallville. It ran in syndication from 1988 to 1992 and was highly popular until its demise, presumably to pave the way for Lois and Clark. The Young Man of Steel was actually young men of steel as two separate actors stepped in to the lead role. Gerard Christopher took over for John Haymes Newton after the first season and commanded the YMOS until the series finale. And the name of the series is…
Answer: SUPERBOY
Source: The Washington Post, August 12, 2012
4. ABC Series About Crash Survivors
A few more hints: Of all the crossword puzzle clues, this one should be the easiest to figure out considering the enormous success of the show. And it's easy to see how Fill-In-The-Blank would become an enormous hit considering it was overseen by a future Star Trek/Star Wars director. Plus, it made use of the considerable acting talents of The Stepfather himself. What is it?
Answer: LOST
Source: L.A. Times, January 24, 2010
5. _____-Hulk (Marvel Superheroine)
A few more hints: While this character never appeared in a live-action feature-length movie or television series, it certainly wasn't from lack of trying. In fact, this one came so close to becoming a reality that Brigitte Nielsen was actually cast in the lead role for a motion picture version circa early 1990s. (Translation: when she was still hot.) Thankfully, you can still get the pics online.
Answer: SHE
Source: Jonesin, October 27, 2011
6. ______ Majesty's Secret Service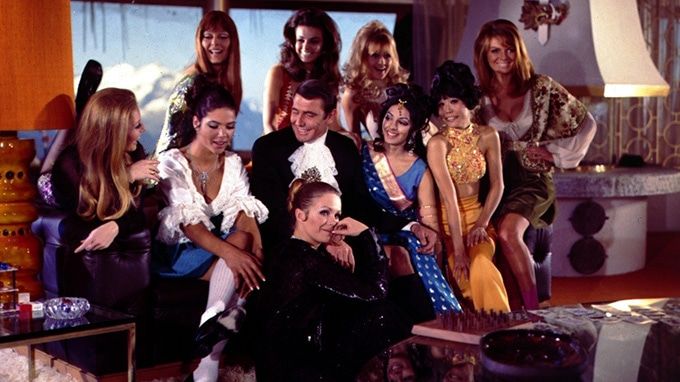 A few more hints: Complete the title of this James Bond flick known by two major facts: 1) It starred a novice actor, who would temporarily replace Sean Connery, in a one-time only appearance as 007. 2) Bond would actually get married in a departure from his womanizing ways.
Answer: ON HER
Source: Jonesin, May 18, 2010
7. Judging ___ (Amy Brenneman Drama)
A few more hints: With a word like "Judging" in the title, we know this one can only be about two things: courtroom drama or religious zealots. It's not the latter.
Answer: AMY
Source: USA Today, July 9, 2013
8. 1985 Film With The Line, 'Two Corpses; Everything's Fine'
A few more hints: We could slave away looking for several great crossword puzzle clues on this one, or we could just sum it up by telling you that the movie was also accompanied by a board game. (And oh, by the way, the Butler did it!)
Answer: CLUE
Source: The A.V. Club, November 21, 2012
9. 2004 James Wan Horror Film That Launched A Franchise
A few more hints: The first film had ties to Lethal Weapon and Christopher Nolan's superhero masterpiece, The Dark Knight. It also gave birth to some of the most gut-wrenchingly awful horror movie scenes in the history of cinema. (And by that, we're talking about the sequels, not the gore.)
Answer: SAW
Source: Ink Well XWords, July 12, 2013
10. 1988 Dennis Quaid Film
A few more hints: Quaid plays a college professor, who has been targeted with a slow-moving but lethal poison. He's racing against time to find his killer before the poison takes full effect. He also stars opposite a considerably cuter version of Meg Ryan than the one we see today. The movie is also a remake, and there's a scene with a nail gun.
Answer: DOA
Source: Thinks.com, May 31, 2007
So how did you do on this little brain teaser. Were these crossword puzzle clues enough to get you that perfect score? And which of these shows/films were the most familiar?