Omegle is an online website that permits its users to chat with each other anonymously, that is without the need to register – and it's free!
To protect their identities, users use terms like "you" and "stranger." Omegle is the brainchild of Leif K. Brooks of Brattleboro, Vermont. When he created the site in March 2008, Lief was only 18 years old. The site derives its name from the Greek letter omega, and it's logo is the letter in Greek turned at an angle of 45 degrees. Within a month of its opening, the site had about 150,000 page views a day. One year after its launch, Omegle introduced the feature of video conferencing.
Ironically, one of the elements of the site that has boosted its popularity is the ending of conversations, with the slogan: "Your conversational partner has disconnected."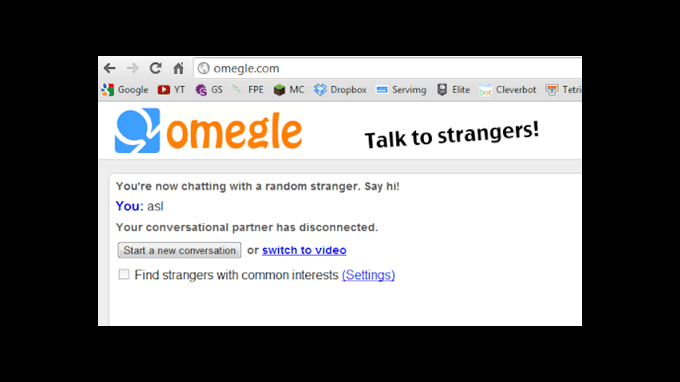 The chat style of the site is called anonymous chat, stranger chat, or 1-on-1 chat. The concept is not entirely original and is similar to something that AOL tried in the 1990's. Today there are other sites, such as Zumbl, Chatroulette, and Tinychat which provide a similar type of service.
With the advent of the smartphone, Omegle now has an application for iPhone users but Android only features the video function, not the chat.
It is possible on Omegle to define your interests- for example, via Facebook Connect – in order to try to link up with users having similar interests. To deal with the ever present problem of spam, Omegle has turned to CAPTCHA which requires users to confirm that they are genuine and not automated bots. Users not conforming to the rules of the site can be banned, initially for two weeks. It is not clear, at present, whether longer or permanent banning will be applied to repeat offenders. Omegle has added a feature called "Spy Mode", which allows a user to suggest a question for two other users to discuss. The questioner can't participate in the discussion, but can only observe what is being said.
Unfortunately, Omegle has found itself embroiled in controversy over events which, with hindsight, might have been envisioned.
The site requests that no one under age 13 may use it, and no one under 18 may use it without parents' permission. According to Omegle's privacy policy, IP addresses are recorded and stored for up to 120 days. The policy explains that users who save chat logs have their IP addresses stored on Omegle's servers indefinitely, and that using video chat involves an exchange of IP addresses between participants' computers. They say that storing IP addresses is for "purposes of law enforcement." Before the beginning of 2013, the site did not censor contributions through a profanity filter, and users sometimes encountered nudity or sexual content on camera. From January 2013, Omegle introduced a "monitored" video chat, to monitor misbehavior and protect people under the age of 18 from potentially harmful content, including nudity or sexual content.
However, and, presumably, to cater for a large section of the market, Omegle also has an "un-monitored" video chat that is NOT monitored for sexual content.
The site's creator, Leif K. Brooks, has accepted that there is controversy over the questionable content of the site, and said he was disappointed at the way in which the site has been used. Perhaps one may be forgiven for observing that, in these times, it was naïve to expect any other outcome.
In 2013 there was a case of nude photos and videos being distributed via Omegle from a teenage girl to a schoolteacher, which resulted in a child pornography charge.
Even on the regular site, a quick scan of sample conversations posted on its Reddit link, gives a casual observer cause for concern as to what can be defined as "normal" chat. If this is normal, one can only fear for the future of mankind.