Don't worry, it has a happy ending.
Autumn Aviva-Keshet Mazzitelli is a single mother of two who needed a family to "adopt" her for the holidays. Her daughter was spending Christmas with her father, so Autumn and her three-year-old boy would be spending Christmas by themselves.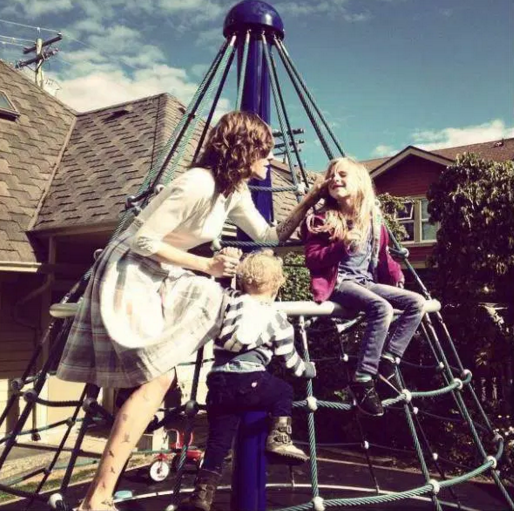 [Source: Facebook]
Autumn didn't want the two of them to be alone on such a festive day, however, so she posted to Craigslist looking for a family to spend the day with. She posted the following ad:
Mother and son seeking family to adopt us for Christmas
Have you always wanted a daughter and grandson? Do you have a daughter and/or grandson but they live too far away to return for Christmas this year?

Do you miss the pitter patter of little feet and adorably mispronounced words of a three-year-old boy? Do you need a hand with dishes after sharing Christmas dinner with a (slightly?) eccentric 30-year-old single mother?

If you've answered yes to any of the above questions, look no further, you've found the perfect solution!

… This year, my older daughter is going to spend the holidays back home with her wonderful Papa… so it's just going to be me and the little guy.
She posted to Facebook saying, "[it is] so easy to find oneself lonely at Christmas and I didn't want to be lonely…. I was going to choose not to be lonely."
Unaware of what section to post the ad to, Autumn said she "posted the ad in the lost and found section because it wasn't a commonly utilized section of CL." Perhaps she was lost, but she was also quickly found.
At first, she didn't receive any responses from Craigslist, so she decided to share it to Facebook, where she still didn't receive a family looking to adopt her. However, friends soon started sharing it, and she quickly had over 300 invitations for Christmas dinner.
Autumn's intentions were not to blow up on social media sensation, but it ended up happening since her story was so inspiring. Autumn insists that she simply didn't want to be alone with her son on Christmas and she was trying to prove how easy it is to connect.
She makes a fabulous point about the usage of the internet and the community it creates. We live in a world that didn't exist twenty years ago. When this single mother felt lonely, she reached out in a way any of us could do ourselves. While many people seem to believe the internet and technology isolate ourselves from reality, we forget its potential to bring people together too.
Because Autumn took a chance online, she now has a whole slew of families to choose to spend Christmas with. According to Yahoo, Autumn has not yet decided who she will be spending the day with.
[Featured Image: Facebook]