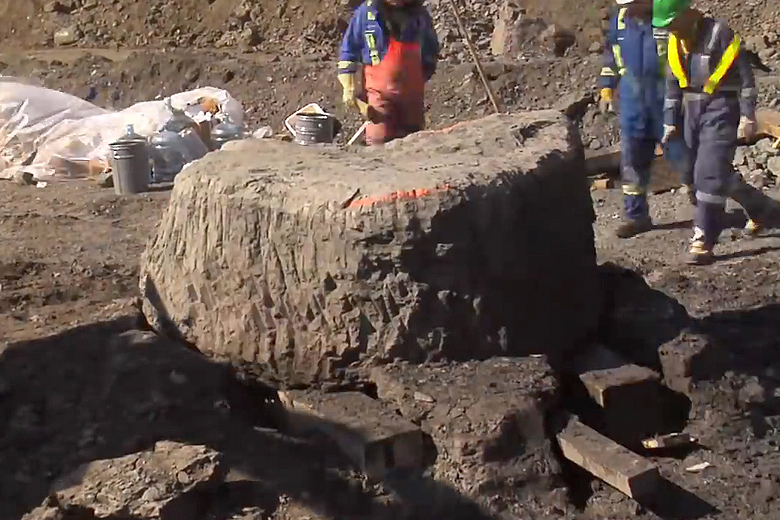 You never know what's going to happen at work and a seemingly average day can become extraordinary in the blink of an eye. Indeed, for those whose job it is to delve deep into the earth, looking for rare ore or valuable natural resources, even a normal Monday can become the find of a lifetime.
Shawn Funk was having a tough Monday. His excavator, which he used to pull crude oil out of the earth, had hit a snag on something deep in his excavation pit. What he pulled out of the ground that day wasn't just extraordinary, it was world-changing...
Millennium Mine
That Monday had started out like any other. Shawn Funk was an employee of the energy company, Suncor, and had been tasked with finding oil deep within the recesses of Millennium Mine. The vast pit known as Millennium Mine was located about 17 miles north of Fort McMurray, Alberta.
Shawn Funk
It was business as usual on the afternoon of March 21, 2011. Shawn Funk, a crude oil mine worker, was busy carving his way through the earth. The heavy mining equipment he operated was humming away, scooping chunks of earth out of the mine shaft, when suddenly he noticed something odd...
Bitumen
Funk's towering excavator gobbled its way down through the layers of sand. The sand was laced with a compound called bitumen, which is the transformed remains of marine plants and creatures that lived and died hundreds of millions of years ago.
Occasional Relics
In his 12 years of digging, Funk had merely stumbled upon any fossils other than the crude oil. This transmogrified sand and glistening oil were the only signs of ancient life he regularly encountered, other than the petrified tree stump. Or it was anyway: until that fateful Monday...
Hit Something
Around 1:30 pm, just after lunchtime, Funk's bucket clipped something much larger than a random tree fossil and much harder than sand or even the surrounding rock. He pulled up the excavator and emptied it. Walnut-colored lumps tumbled out onto the ground.
Nothing They'd Ever Seen
But these odd rocks weren't your average bits of petrified wood. No, they were the remains of a much larger organism. The other side of the strange lumps was covered in strange patterns as well: row after row of sandy brown disks, each ringed in gunmetal gray stone. They knew they had to stop digging and call someone…
Dig it Out
As it turned out, freeing whatever the lumps had come from turned out to be quite the impossible task. Suncor executives contacted the Royal Tyrrell Museum who dispatched two of the museum's veteran technicians to Fort Murray. Apparently, whatever they had discovered was important enough to fly them out there.
Whittling
Suncor excavators and museum staff chipped away at the rock for 12-hours at a clip. Eventually, they whittled the mass down to a 15,000-pound rock. It fell and shattered as it was hoisted out of the mine, revealing the remains of a dinosaur previously unseen in the history of paleontology...
The Living Sculpture
When they finally put the remains back together, they resembled what appeared to be a roughly sculpted, highly realistic, nine-foot sculpture of a dinosaur. Bony scutes and plates adorn the top side of the piece. Yet, this is no lifelike sculpture though, but a real dinosaur that has been petrified entirely.
Mummy Dearest
The dinosaur was such a well-preserved example that many have taken to calling it, not a fossil, but more rather a "Dinosaur Mummy." The animal looks as though it had died only a few days ago. Yet, where did this dinosaur come from and what happened that caused it to be so completely preserved?
110 Million Years
The animal in question lived 110 million years ago. The armored plant-eater, a creature not unlike Ankylosaurus, lumbered through what is now western Canada. That is, until a flooded river must have swept the plated Goliath out to the open ocean.
Swept Away
Despite being battered and drowned by the rushing water, the creature remained completely intact. Yet how it did so is still something of a mystery. Eventually, the ankylosaur sank into the sea, settling into the sand and substrate. There is remained, for the next million years...
Preservation
Over the following millennia, the ankylosaur sat on the ocean floor, where minerals replaced the ones in the dinosaur's armor and skin. The minerals preserved it in such a way that more than the bones were left to puzzle scientists. In fact, you can't even see its bones at all beneath the rocky skin.
Best-Preserved
Scientists are hailing it as perhaps the best-preserved dinosaur specimen ever unearthed and for good reason. Indeed, not only did the armored dinosaur's osteoderms remain preserved, so too did the scaled between them. The fossilized and keratinous scutes of the nodosaur are being called the "Rosetta stone" for dinosaur armor...
As It Would Have Been
The creature's skin, armor, and even some of its guts remain intact and as such, researchers are astounded at this wholly unprecedented level of fossilization. Modern scans allow scientists to glimpse the skeleton inside as well, meaning that the dinosaur is almost as complete as it would have been when it was alive.
New Species
The dinosaur is a member of a new species of ankylosaur and has been called Nodosaur. This enormous four-legged herbivore was protected not only by its spiky, armor-plated back, but also a long tail possibly topped with spikes. Both were solid methods for deterring predators. It would have been very similar to other ankylosaurs discovered in Canada...
Ankylosaurus
Based on what we already know about ankylosaurs, the Nodosaur would have been a solitary creature. Though it would normally have been overshadowed by the popular Ankylosaurus, this Nodosaur has gained almost immediate fame for its remarkable level of preservation.
Weighing In
Weighing in at approximately 3,000 pounds when it was alive, the Nodosaur is still fairly close to that weight today. The intact fossil weighs an astonishing 2,5000 lbs, even after being extracted from the rocky prison it was found in. A lengthy process to be sure...
Countless Hours
Researchers spent nearly 7,000 hours over the course of the last six years both testing and preparing the remains for display. Today, visitors at the Royal Tyrrell Museum in Alberta, Canada can view firsthand, the closest thing to a real-life dinosaur that the world has likely ever seen.
Rarest Fossil
Meanwhile, paleontologists are still studying the amazing ankylosaur. It has completely changed the way dinosaurs would have looked while they were alive. More importantly, it has reinforced the long-held ideas about dinosaur appearance: letting us know that we were right about how these amazing creatures must have looked.