Christmas morning is all about surprises, joy and being surrounded by the ones you love, especially the little ones who wait for Santa all year long.
Yet if you don't have any children or grandkids yourself, every pet parent knows that the next best thing is to spoil their fur kids.
Just like tiny tots, Man's Best Friend loves to go wild over a new toy or gift…and the best part is that puppy presents never have to break the bank. They have a lot to teach us about gratitude since they'll be happy with just about anything!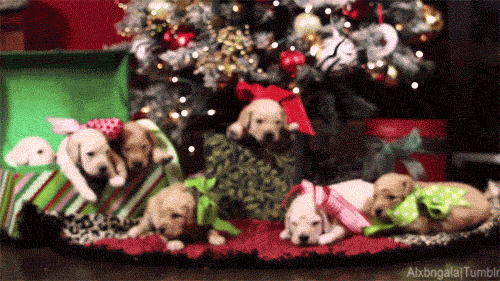 [Tumblr]
One man who knows well that a good gift is all about making that special someone smile is Noel Parsons of London, UK, whose Christmas morning video has gone viral since being posted to Facebook.
Instead of wrapping up a bouncy ball or squeaky toy (although they do seem to make an appearance in the video) Parsons knew the best gift he could give his furry Bolognese friend was himself.
In the clip, we see Trouble make his way over to the super-sized present and start sniffing around. You can instantly see how excited the little pup gets when he realizes the surprise is his owner, as he licks him all over.
When it comes to the season of giving, this is the perfect example of how it really is the thought and not the price tag that counts. Nothing beats a gift from the heart!
Coming home for Christmas (…as a giant present for your dog)

Posted by Noel Parsons on Friday, December 25, 2015
Do you love what this pet parent did for his happy pooch? Please SHARE this video with your friend on Facebook and make someone smile today.
[Featured Image: Facebook]