Dill is a very special puppy. 
Just after Christmas, this tiny pup arrived at Fetch Wisconsin Rescue with his brothers and sisters, all of whom were healthy and happy, including Dill. Because of his good health, volunteers didn't notice at first that one of Dill's front legs was deformed.
But as rescuers soon learned, Dill's deformity did not hold him back from walking. Instead, this cutie pie just hopped around on three legs!
Now that Dill was safe, and in the care of Fetch WI, he was in need of a loving home.
The perfect opportunity arose when a woman named Jess Street learned of Dill when she reconnected with a friend who volunteers for Fetch WI. It just so happened that Jess was looking for a potential therapy dog just like Dill!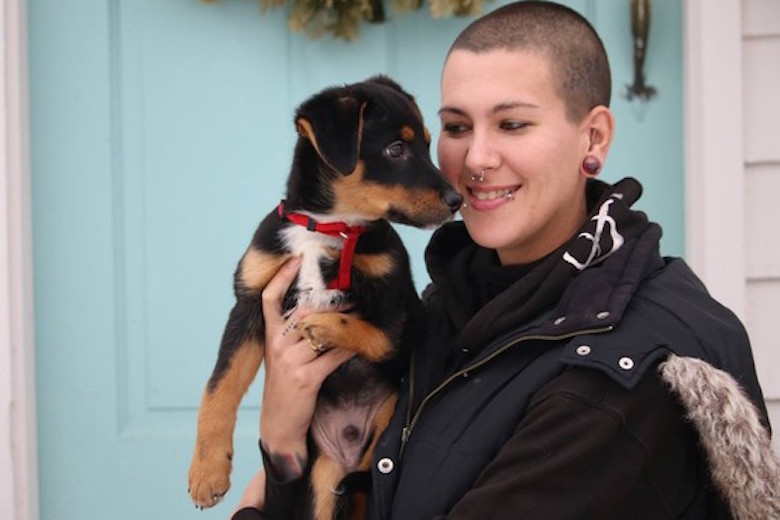 "I had been looking for for a potential therapy dog for well over a year, but the right one just had not come around yet," Street told The Dodo. "Literally everything about Dill seemed perfect, except for the fact that he was on the other side of the country from me."
However, it seemed to be fate one day, when the price of the flight for Jess to fly from Florida to Wisconsin dropped from almost $300 to practically nothing! Jess also was able to stay with her family in Madison, and some amazing people donated money to Fetch WI to help cover Dill's adoption fee. "It was 100 percent meant to be," Street said. 
Jess renamed Dill, Doc, as he is now on his way to becoming a therapy dog, and being part of her and her 6-year-old daughter's nonprofit organization called The Kindness Tribe. Doc will soon be touching the lives of many, and Jess says, "I can already see how he will have such a great opportunity to change lives … probably beginning with mine and my daughter's."
We are so happy Doc found his forever home!
Please SHARE this incredible rescue story with your friends and family on Facebook!
[Featured Image Credit: Facebook- Fetch Wisconsin Rescue]