If you're thinking about spoiling the shoefashionista in your life with a pair of the most expensive shoes, you'll need to look beyond Christian Louboutin and Jimmy Choo.
Sure, these are fabulous brands, and what you spend on one pair might be more than what you spend on clothes in an entire year. But despite their mouth-dropping sticker prices, these fashions don't compare with the 8 shoes on this list.
1. SoCal Air Force One Supreme Max from Nike – $50,000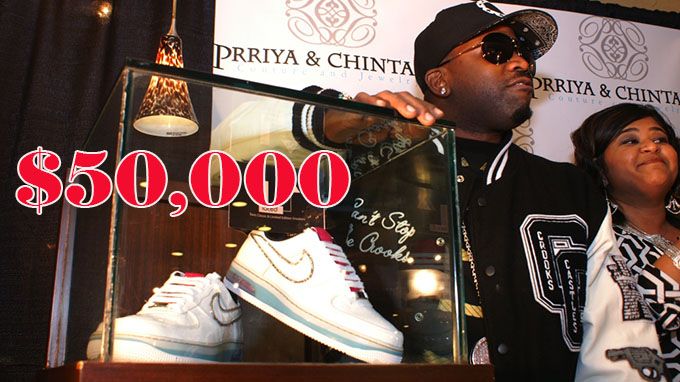 With an exorbitant price tag of $50,000, you'll have no problem paying $100 for an ordinary pair of Air Force Ones at the department store. So, why are these shoes 500 times more expensive? You can blame the markup on the 11 carats of chocolate covered diamonds outlining the shoe.
2. Diamond Dream Stilettos from Stuart Weitzman – $500,000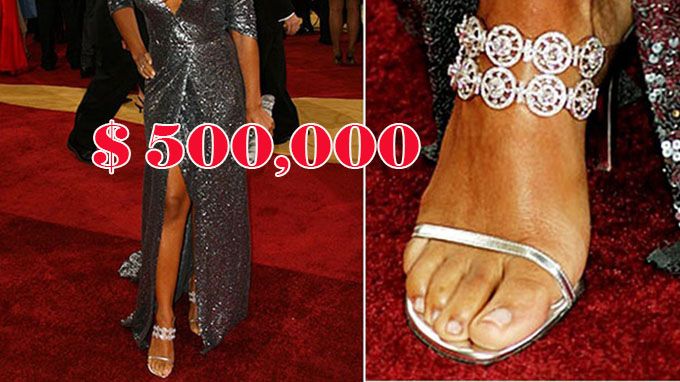 Are you looking for one-of-a-kind stilettos? Do you need something in silver? Well, if you have an extra half million lying around you can finish off your outfit with the Diamond Dream stilettos. Weighing 30 carats, this shoe's design consist of 1,420 diamonds set in platinum.
3. Ruby Slippers from the Wizard of Oz – $612,000
If you ever dreamed of spending a day in Dorothy's shoes, you may be able to one day. Of course, this will come with a hefty price tag. The original shoe featuring red sequins, fine chiffon and emerald-shaped crystals sold at an auction in 2000 for over $600,000.
4. Retro Rose Pumps from Stuart Weitzman – $1,000,000
Diamonds and shoes are a girl's best friend, and these rose pumps offer the best of both worlds. Besides, who wouldn't want to wear a shoe laced in diamonds? These rose pumps are reminiscent of the 1940s and feature a white rose made up of 100-carat 1,800 Kwiat diamonds. But the diamonds do not stop here. There are an additional 400 Kwiat diamonds positioned throughout the shoes.
5. The Ruby Slippers from Stuart Weitzman – $1.6 million
Inspired by the Wizard of Oz, these shoes by Stuart Weitzman take Dorothy's ruby slippers to a new level. But with a price tag that's about $1 million more than the original slippers, how do these shoes differ? Not only do these shoes feature an elegant, eye-popping design that's sure to command attention at any red carpet event, it has 642 oval and round Burma rubies, a half pound of platinum and rubies weighing more than 123 carats.
6. Tanzanite Heels from Stuart Weitzman – $2 million
These silver stilettos are sure to make an impression. Designed by Weitzman, these shoes feature 185 carats of tanzanite gemstones, 28 carats of diamonds on the front strap, 16 carats of gems stringing the ankles, plus heels encrusted with nearly 600 carats of diamonds. Think these shoes will go perfect with your evening wear? Well, they can be yours for $2 million.
7. Rita Hayworth Heels from Stuart Weitzman – $3 million
Inspired by Rita Hayworth, these deep chocolaty shoes feature a satin flower on the toe. And like the other most expensive shoes on this list, there is no shortage of precious stones. Each leather shoe is decorated with diamonds, rubies and sapphires. These impressive shoes belong to Hayworth's daughter, but if they ever go up for sale, you can take them off her hand for $3 million.
8. The Ruby Slippers from the House of Harry Winston – $3 million
Stuart Weitzman isn't the only shoe designer inspired by the Wizard of Oz. Fifty years after Dorothy and her dog landed in Oz, designer Ronald Winston celebrated the movie by creating his own version of the ruby slippers. Although similar in design, his slippers are far more luxuriant. Winston ditched the sequins altogether and used 1,350 carats of rubies, plus 50 carats of diamonds.