Are you tired of dressing up as a vampire or a joker for Halloween? Fear not! There's endless room for creativity on October 31st. Here are 23 funny Halloween costume ideas you will love. Happy Halloween!
Pop Culture
Most of Halloween costumes fall under the Pop Culture category. Popular movies, TV shows and video games inspire many of the costumes. And so do books, artworks, celebs, national icons, famous brands and tourist destinations.
1."We Can Do It!" via SBT4NOW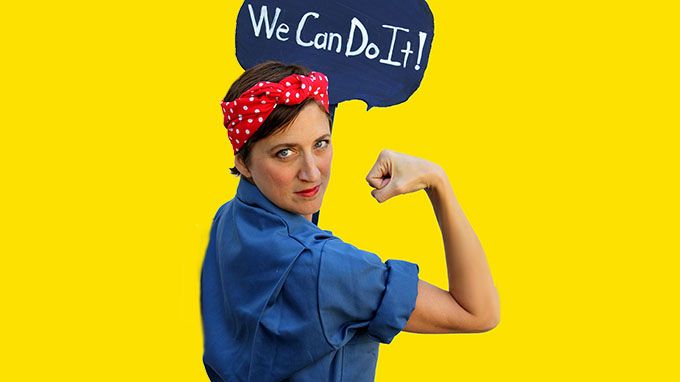 The icon of Rosie the Riveter is so deeply rooted in American culture that it doesn't take much to recreate J. Howard Miller's famous wartime propaganda poster.
Tetris, the 80's addictive game makes for a great costume for couples. Just make sure the Tetriminos fit in right!
3.Stewie in the Bathtub via Tested.com
Well, if Lois can't get Stewie to take a bath, maybe Consuela can work her magic, using her Lemon Pledge…
LEGO minifugures are a popular Halloween theme. Just like with real LEGO, when you dress up as one of these figures you can give your creativity free reign and add your own twist.
5.Tippi Hedren in The Birds via FYHC
This original scene from Hitchcock's The birds was a scary one. But its Halloween version gives it a funny twist…
6.Pasta & Sauce via Instructables
There's no better way to show your love for Italian food than by dressing up like Barilla pasta and Ragù sauce!
Trends
Whether it's the hottest social network, YouTube clip, TV commercial or gadget – trends inspire new Halloween costumes every year. So do big news stories and Internet memes.
Launched in 2010, Pinterest has quickly become many women's social network of choice, as the photo implies.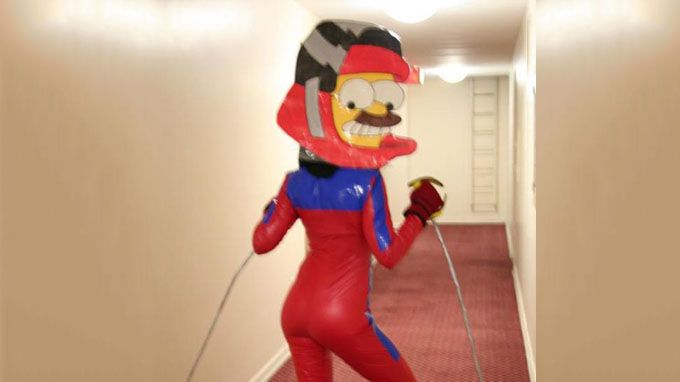 Founder of the Livestrong Foundation, Lance Armstrong has inspired millions with his Tour de France achievements and battle against cancer. In January 2013 he admitted doping to Oprah on TV.
9.Julian Assange & Bradley Manning via Boing Boing
U.S. State department diplomatic cables were published by WikiLeaks on 2010. Now that legal actions against the news organization and its alleged source Manning are well underway, they attract a lot of public interest.
Food
Food costumes will always work well as a Halloween costume theme. Whenever a human dresses up as any fruit, sandwich, dessert etc. it will make people laugh. Period!
Why dress up like a sushi roll when you can become a walking sushi restaurant and make everyone's mouth water? (Instructions).
11.Out of this world Watermelon via Instructables
While summer is a few months away from Halloween (for Northern Hemisphere party-goers, that is), this watermelon costume is as refreshing as it gets… (Instructions).
12.Cupcake & Chef via Females Corner
This innovative costume is perfect for couples. Cupcake girl will get hungry stares from other guys while her chef guy whisks them away with his whisk…
Twisted & Funny Ideas
Next Halloween you can stay off the beaten track. Instead of choosing a classic costume, why not let your creativity run wild? Use a common theme from a movie, a fairy tale etc. and add your own twist, or come up with your own crazy idea.
If you hate someone with a vengeance, do send them to the DIY heart surgeon. Chances are you will never hear from them again… (Instructions).
Out of millions of sperm cells in a swimming contest, only your baby has made it! Make sure your newborn has got the right sense of humor before wrapping him/her up. (Basic instructions).
What happens when a scruffy, hotblooded pirate sees a sexy mermaid? Nine times out of ten he won't just stare at her. He'll introduce her to his ship crew! (Instructions).
Fairy Tales & Children's Books
Fairy tales and children's books have always captured our imagination. Since their characters are easily recognized it doesn't take much to recreate them in Halloween.
16.White Rabbit & Alice via PassionSearch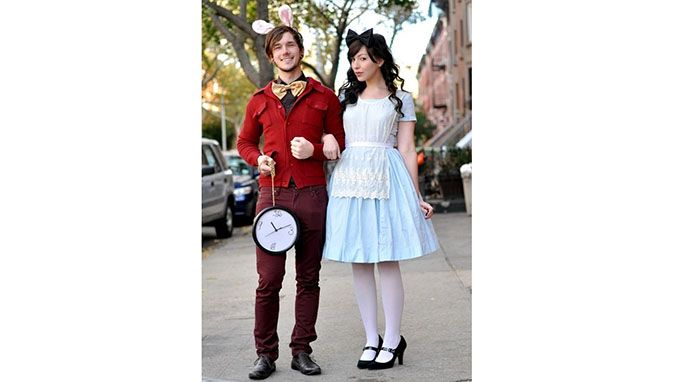 "Oh dear! Oh dear! I shall be too late!" (White Rabbit)
With a few simple accessories and some elegant clothing, couples can easily recreate two of the main characters from Lewis Carol's book Alice's Adventures in Wonderland. Just don't run late to the party!
17.The Little Mermaid via What Even is Sanity?
If showing your upper body is not an issue, why not dress up as The Little Mermaid? Ready-made costumes are available or you can get creative and do it yourself on the cheap.
18.Little Red Riding Hood via Kyle Nishioka
So what if you're a guy? Borrow a red dress, put a matching robe on top and go for a walk in the woods!
Retro Style
Halloween gives you a chance to get nostalgic. Missing VHS cassettes or Vinyl records? Show your longing for the good old times by dressing up as your favorite retro object.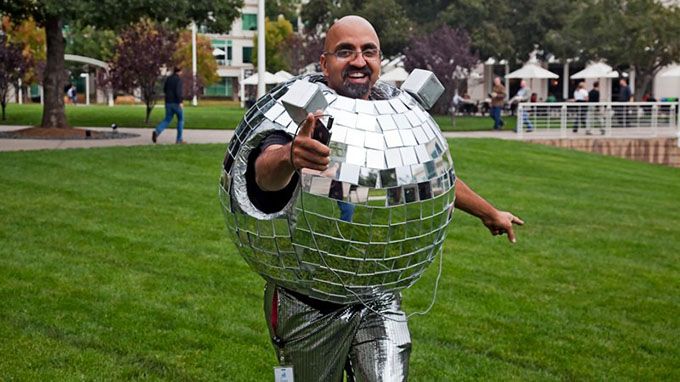 Tired of electronic music?
Bring a bit of 80's flair to the dance floor by dressing up as a disco ball! (Basic instructions).
Why dress up as an iPad when you can become a vintage typewriter? (Instructions).
Spookiness
It wouldn't be a true Halloween without some blood, gore and spookiness. And if you've had enough of zombies and bloodsucking vampires, there are plenty of other scary yet funny costume ideas.
21.I Always Share My Food via BunearoBanana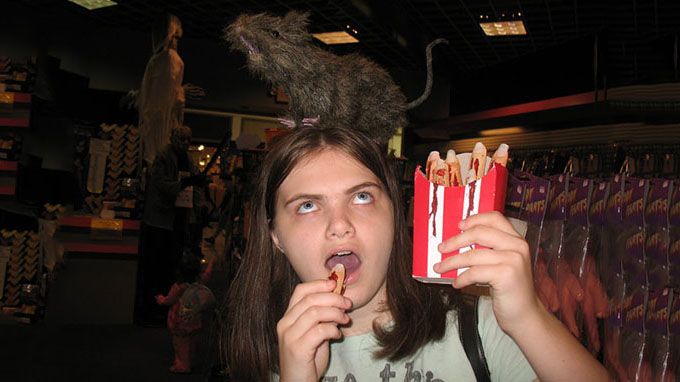 This bag of chips could look appetizing until you realize what it actually has inside…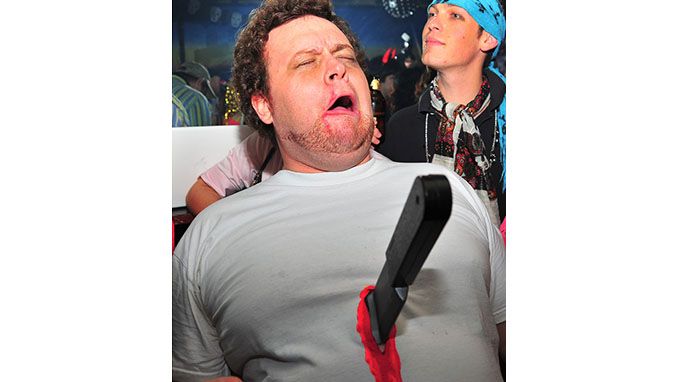 When wearing this somewhat violent knife in the chest costume you will need to keep the pain expression constantly fixed on your face.
23.Mr. & Mrs. Pumpkinhead via Lenore Edman
A pumpkin can be carved and then used as a jack-o'-lantern but with a bit of creativity it could form part of your Halloween costume. (Instructions).
For more costume ideas, please go to my Halloween Pinterest board.