Man Or Woman, We All Like To Push Ourselves To See What We're Capable Of Before Paying A Professional. And With These Husky Tools, Who Needs The Pros Anyway?
Technological advancements in the world of hand tools have brought us a long way from our caveman roots. In fact, with some of the products and product sets now on the market, we're quite a bit further along than we were 25 or 30 years ago. Improved design and functionality has made it possible for even the most novice do-it-yourselfer to get a little braver and try his hand at fixing things himself. Of course, none of this would be possible if not for the experience and seasoning of brands like Husky Tools. At close to 90 years old, the brand recently received new life when it was acquired by The Home Depot, who quickly enhanced overall value by offering a lifetime warranty on every item that bears the Husky logo.
So buy with reckless regard, DIYers. The Home Depot's got you covered. Just try not to take on any job bigger than your capabilities. Here are seven hand tool essentials from Husky that you'll need to get started.
7. 185-Piece Mechanics Tool Set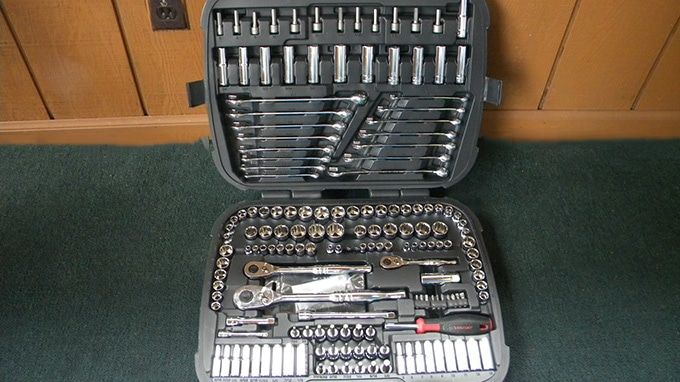 While this set hasn't quite licked the storage situation of getting all your pieces to stay in one place when opening or closing, it does give you quick and relatively easy access to 185 must-have pieces for your home toolbox. Included in the mix are quick-release ratchets featuring a 72-tooth design that assists in fastening with limited movement. There are also chamfered lead-in sockets providing quick placement onto fasteners (sold separately). And if the vision isn't what it used to be, each piece comes with large markings for extra readability.
Cost: $99.00
6. Plier Set, 4-Piece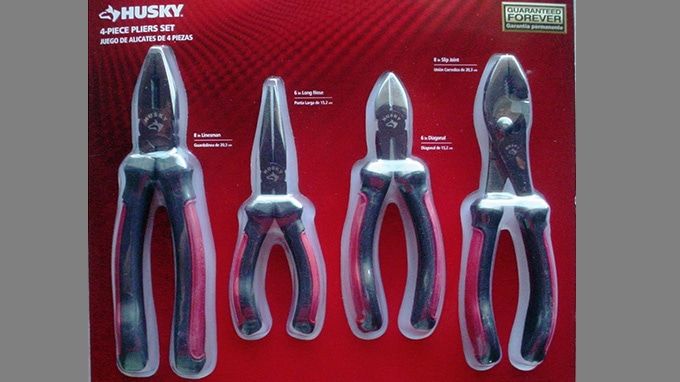 Sometimes you need a little extra grip — more than a single set of pliers can provide — and with this Husky Plier Set, you've got it. The set comes with seven-inch diagonal pliers for some of those trickier angles along with two eight-inch sets — one standard slip and the other a long-nose. Last but not least, for the really hard-to-reach places, you can put the 10-inch adjustable groove joint pliers to good use. Every DIYer will experience a time in life to be thankful for any one of these Husky tools, yourself included.
Cost: $19.97
5. Stubby Combination Wrench And Socket Set, 45-Piece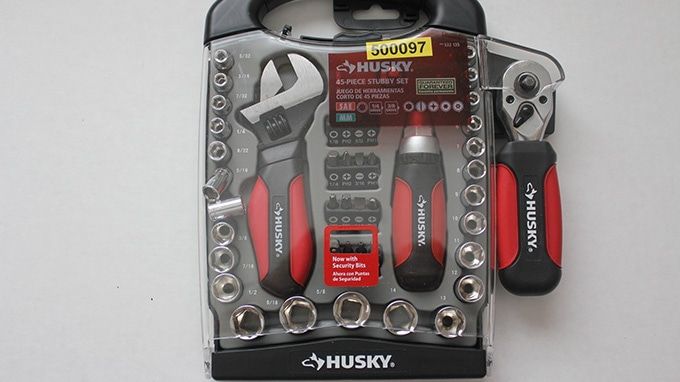 The Husky 45-Piece Stubby Combination Wrench and Socket Set gives you all the most commonly used bits and sockets you'll need, especially when starting out. Home, office, or garage, you may want to take this one with you wherever you go. Featuring a ratcheting screwdriver with a full 180-degree indexing capability, rubber grip handles on both ratcheting screwdriver and ratchet, 12 SAE sockets, 13 Metric Sockets, a 1/4-inch x 3/8-inch adaptor, and 15 slotted screwdriver bits, you'll have a hard time finding a small job you can't handle.
Cost: $19.97
4. Multi-Purpose Tool Set, 123-Piece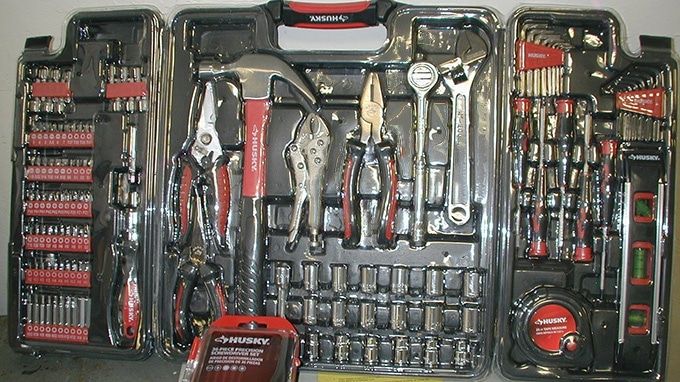 Aptly named, this set throws in everything but the kitchen sink when it comes to getting your DIY efforts off the ground. Complete with hammer, sockets, bits, and a few other items that may overlap with some of the others on this list (i.e. linesman pliers, ratcheting screwdriver, etc.), you'll keep it all together with a convenient carrying case that makes this one easier to carry than some of the other Husky Tools sets that are offered. If you're on a budget, you need some tools, but you don't want crap, this is a great place to start.
$59.99
3. 6-In-1 Reversible Screwdriver Set, 4-Piece
We realize that not everyone will be starting their tool collection from scratch, and so if you already have a pretty reliable set, you may want to fill it out with some odds and ends or some replacements that give you better options than what you currently have. With the 6-In-1 Reversible Screwdriver Set, you'll benefit from a chrome-plated shaft that resists corrosion and gives you a number of functional years. The butyrate handle is about as tough as these all-in-ones come, and the two double-sided bits lend more flexibility to the job in front of you. It also gives you less to keep up with than the standard screwdriver set, and that's a bonus.
Cost: $5.98
2. 3-Piece Pro Chisel Set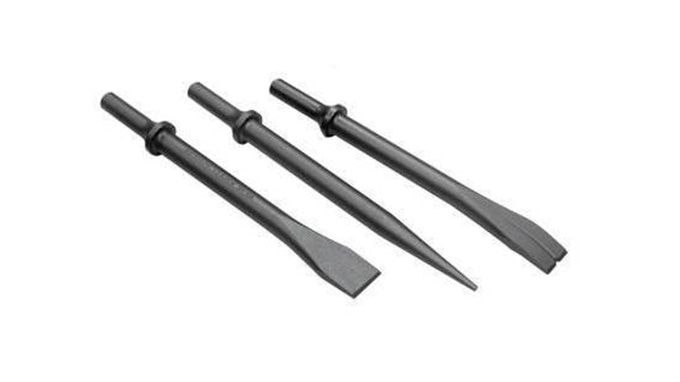 Anyone can tighten a screw or hammer a nail, but sometimes the pieces of a project get stubborn and cause ample amounts of frustration if everything isn't "just so." With the Husky 3-Piece Pro Chisel Set, you can tackle the tougher jobs, which may include anything from cutting through bolts, screws, and nails, to ripping sheet metal. The set boasts three chisels forged from heated alloy steel to bolster strength and durability.
Cost: $17.98
1. 9-Inch Digital Level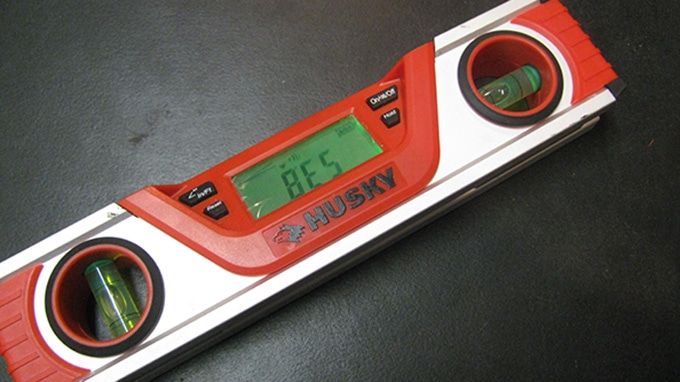 Precision is everything when it comes to hanging pictures or building things. While "ballparking it" may work for the little things, it's pretty useless if you want to construct anything of quality or want to hang a picture that looks right. For that, go digital with the 9-Inch Digital Level from Husky Tools. Instead of trying to eyeball a scale or bubble, just let the numbers do their work. If you're off, reposition or recalculate until you get it right. After all, you may be a do-it-yourselfer, but your projects don't have to give you away.
Cost: $39.99
Where are you in the DIY journey? Does the economy have you thinking about taking on more handyman jobs around the house, or are you a professional looking for a bit more warranty assurance from companies that create the tools of your trade. With almost a century under its belt, the backing of a player like The Home Depot, and that aforementioned lifetime warranty, Husky Tools may be the right choice.